Announcements: October 9th, 2014
The global affairs forum will be meeting every other Thursday starting October 9th in room 1442.
Sophomore Leaders – HOBY's flagship program, the State Leadership Seminar allows high school sophomores to recognize their leadership talents and apply them in becoming effective, ethical leaders in their home, school, workplace, and community. The three day seminar will be held at Texas A&M Galveston May 29-May 31, 2015. Log in to Naviance to complete your application that is due by October 31st. See Mrs. Reeves for more details or go to www.HOBY.org for more information.
Our next Foshan, China information meeting is scheduled on Monday, October 20, 2015 at 6:00 p.m. in the GRHS LGI. Information will include the student application, trip agenda and financial cost of trip. Foshan China trip dates are January 3, 2015 through January 17, 2015. If you have any questions, please contact GRHS principal, Leslie Haack
Chess Club is finally here at the ranch, Longhorns. Chess Club will officially meet on Monday and Thursday mornings from 7:15 to 8:00 and Wednesday afternoons from 3:45 to 4:30. Chess club will be in the library. Chess boards are in need to be donated to the club. If any questions please contact Mr. Throop, Aaron Chee, or Daniel Ajisafe.
The GRHS cheerleaders are pre-selling Schultze's BBQ dinner plates for October 23rd from 5-7pm. For more information, please contact Mrs. Thomas or one of your cheerleaders or mascots.
Attention Singers, Instrumentalists, Dancers, comedians, Slam Poets and performers of all kinds, after the amazing success of our first Longhorn Lounge, the window is now open to sign up for the next Lounge taking place on Thursday, October 30th! You have until next Tuesday to get signed up. Sheets are on Mr. Meyer's door, room 1426. We are also auditioning for MC's this time around, so , all interested should get signed up ASAP. This is quickly shaping up to be a defining event here at the Ranch, so come be a part of the history being made as we continue the Longhorn Lounge's inaugural season!
Come and join us on a trip to England, Scotland, Ireland, and Paris in June 2016. You can make payments for as little as $198 a month. There is a meeting on Tuesday, October 21st at 6:30 p.m. in Room 1425. Come and find out the details. Don't miss out on this great opportunity. If you can't attend and would like information contact Mrs. Kroeker at [email protected]
Students, if you need to checkout a textbook, you must now complete a Textbook Request Form located at the Student Service Window. Once your completed form is received, your books will be pulled and delivered to your classroom within 24 hours.
Seniors, make sure you order your Class of 2015 Senior Shirt! Orders are due by October 15th to the Student Service Window. Cost is $15.
About the Contributor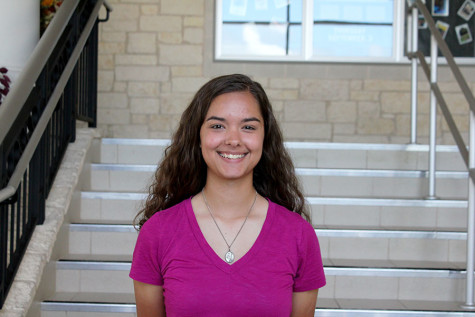 Sara Vivas, Staff Writer
Sara is a funny, light hearted person. She is a senior here at George Ranch; this is her third year on the Wrangler and she loves writing for the school...