Announcements: October 28th, 2014
Halloween Flick-or-Treat/Holiday Drop and Shop – Saturday, November 1st from 4:00 pm-8:00pm the GRHS Theatre Longhorn Players will be hosting a "spook-tacular" event! Kids grade K-5th….put on your costumes one more time and join us at the Ranch for some Halloween fun. Parents….November 1st is the first holiday shopping day, so drop your kiddos and hit the mall or enjoy the quiet. Trick-or-treating, dancing, games, movie, pizza, drink, popcorn and fun! Theatre students will act out scenes during the movie and interact with the kids. Space is limited so register now online at www.grhstheatre.weebly.com!
The next presentation of LONGHORN LOUNGE will be presented Thursday, October 30th at 7:00pm in the Black Box Theatre. Filled with performances by some of your most talented classmates, come out and enjoy an evening of entertainment, refreshments and some of the greatest new sounds and ideas coming from your fellow Longhorns. Tickets are $3 at the door and all proceeds go to help the GoScotland fund as the Longhorn Players represent George Ranch High School in Edinburgh Scotland next summer!
Students – if you are interested in radio broadcasting, a radio club is starting up at GRHS. You can be a part of launching an online radio station for George Ranch High School! An informational meeting will be held at 4 p.m. Wednesday, October 29 in room 1419. Interested students can bring a story that has been edited for radio. The "voice of GRHS sports" Mr. Tom Terrando will have an online radio station set up for practice runs. For more details on this exciting new club, see Mrs. Respondek in 1419 or email [email protected].
The George Ranch Grazing Saddles Café is currently under renovations! Ms. Waumsley and her culinary art students are accepting donations for rustic, mix & match tables and chairs. Items can be old, outdoor, or anything you can spare. Please contact George Ranch High School at 832-223-4203 to confirm your date and time of arrival and we will provide the manpower to unload items from your vehicle. Thank you! If you need us to provide a pick-up from your location that can be arranged as well.
Homecoming Court voting starts today. Vote for your favorite sweetheart and beau. Log onto Naviance and cast your vote. Voting will close Wednesday, October 29th @ 4pm. Go Longhorns!
About the Contributor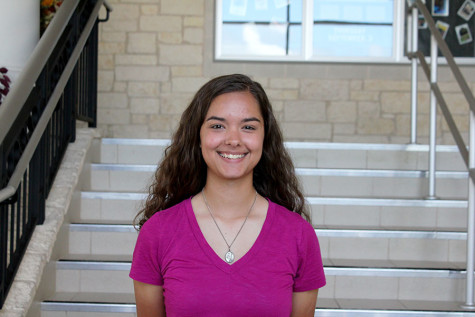 Sara Vivas, Staff Writer
Sara is a funny, light hearted person. She is a senior here at George Ranch; this is her third year on the Wrangler and she loves writing for the school...