SOS Plays for Strays
Students against faculty members; the Save Our Strays organization set up a charity softball event to raise money for local animal shelters. Teachers and coaches teamed up against a group of students looking to show their athletic dominance over the test-givers. The student team, comprised of baseball players, softball players, and football players, and student in the SOS club faced a stout teacher team led by Coach Davis and Coach Gazaway, as well as Mr. Eubanks and Mrs. Haley.
With a five pitch limit per batter, every hitter was taking hacks on the first pitch. The students had the first chance to  put runs on the board and capitalized on the opportunity; led by Marley Potter, Bryce Varni, and Emily Rimes, the students scored five runs in their half of the inning. The teachers struggled offensively and had nothing to show for in the  bottom half of the inning.
Sara Gonzales led off the second inning and reached base safely only to be thrown out on a double play ball hit by Brad Cross. Gonzales said, "I was just not fast enough." The teachers had the same luck as the students this inning and were held scoreless again. The score remained Students 5, Teacher 0, heading into the third. The third inning was as uneventful as the second and the students continued to hold their dominant lead over the teachers.
In the top of the fourth inning, Mason Grant and Sarah Hudek led the offensive firepower for the students, both crossing the plate that inning. The teachers put contact on the ball but the majority of their hits were right at students waiting for the opportunity to get them out. The teachers ended the inning with two runners on base, unable to capitalize. Students 7, Teachers 0.
The students managed to put up another run in the top of the fifth inning, with Jonathan Kastens, driven in by an onslaught of hits by Natasha Cabucio, London Diller, and Brad Cross. And in the bottom of the fifth inning, the teachers were  finally able to cross the plate, Mr. Croft led off the inning with an easy single as did Mr. Tielke. Croft scored on a double play and Coach Bisel was driven in by a Coach Davis double. The game ended with the students victorious, the final score 8-2.
The cause was good and the participants and fans had fun.
About the Contributor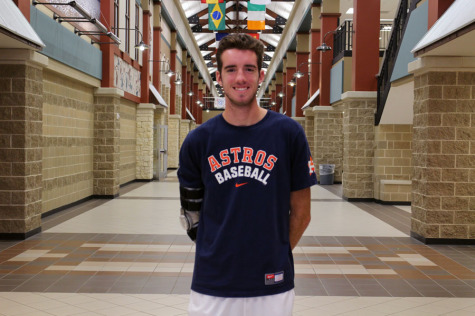 Cole Morgan, Staff Writer
Cole is senior at George Ranch High School and this is his first year on The Wrangler staff. He plays baseball for the school and is also in National...