Announcements: Decemeber 8th, 2014
Want to learn how to conduct a building search? Want to learn how to conduct a felony take down? Join the Law Enforcement Club in room 2331. Interest meeting on Friday 09/05 afterschool.
The Red Cross Club meets every other Thursday. Meetings will be held in room 2305(Mr. Carroll's room) at 7:30 unless specified otherwise. For more information follow them on twitter @GrhsRedCross.
The Angel Tree service project is well underway. Remember to bring items for special angel so that they are able to have a great holiday ! Turn in any items during advisory. A junior class officer will come by to pick up gifts. All donations are due by Monday, December 8th . If you have any questions, please see Mrs. Richards- Baker or Mrs. O'Haver.
Students don't miss out on an opportunity to travel to Ireland, Scotland, England and Paris in June of 2016. Join us on the adventure and have a great time. Monthly payments are available. See Mrs. Kroeker or email.
NHS Seniors are reminded that you must have your Service Project completed by December 22nd. All NHS members are reminded to hand in their yellow service forms as soon as you can. Final deadline is January 7th.
Sumo Mania is coming to the Ranch January 23th! Early voting starts Monday December 8th and ends December 12th at 7:40 in the morning and 3:45 in the afternoon in front of the library. Come vote for your favorite teachers and administrators to wrestle each other, $1 gets you 2 votes.\
Let George Ranch's drill teams, the Lariette's and Belle's, do your wrapping this holiday season! The Lariette and Belle's Booster Club will be providing gift wrapping at First Colony Mall for donations beginning the weekend of December 6 all the way through December 23. Wrapping services will be in the main aisle of the First Colony Mall just down from the Apple Store. Following are the scheduled dates and times. Happy holidays from the Lariette's and Belle's!
Saturday, December 6, 2014 12-6 pm
Sunday, December 7, 2014 12-6 pm
Saturday, December 13, 2014 12-8 pm
Sunday, December 14, 2014 12-6 pm
Tuesday, December 16, 2914 6-9 pm
Wednesday, December 17, 2014 6-9 pm
Thursday, December 18, 2014 6-9 pm
Friday, December 19, 2014 6-9 pm
Saturday, December 20, 2014 12-8 pm
Sunday, December 21, 2014 12-6 pm
Monday, December 22, 2014 2-9 pm
Tuesday, December 23, 2014 2-9 pm
Senior Yearbook AdsSenior Parents: If you didn't get a chance to place your senior ad order, now is the time to make your order. Spaces are still available. Senior ads make a yearbook something to be treasured for years to come. Imagine how excited your senior will be to see the recognition from you in the pages of the yearbook at the signing party in May! The yearbook staff has experienced student designers who will create a special memory just for your senior. To guarantee a spot in the yearbook, submit an order at www.balfour.com by Friday, December 12. After your purchase, you will have until January 20 to submit the ad materials (wording, photos, etc.) to Mrs. Amanda Respondek at [email protected] or by envelope at the front office.
Time is quickly running out to order your George Ranch Yearbook! There are three ways to do this. To order by mail, pick up an order form in the front office. To order by phone, call the Smart Pay Call Center at 1-800-853-1337. But, the easiest and quickest way to order is to go to the Balfour website -www.balfour.com. A confirmation receipt is sent directly to your email address. Don't miss out on this opportunity – there are NO guarantees that extra books will be available after 1/16/2015, so order NOW! We don't want any student to be disappointed this spring at distribution.
This past Saturday many of our band students competed in the region band contest at Terry HS. This is the first step to all state band. Congratulations to the following freshman that made freshman region band this past Saturday:
Tess McComiskey – Clarinet 11th chair
Cameron Nunez – Bass Clarinet 3rd chair
Sara Walker – Bassoon 1st chair
Adam Czernuszenko – Trumpet 6th chair
Hope Yeager – French Horn 7th chair
Danile Ajisafe – Tuba 3rd chair
Congratulations to the following students that made District region band.
Samantha Nelson – Flute 9th chair
Sara Walker – Bassoon 2nd chair
Jerome Hall – Trumpet 7th chair
Sam Decal – French Horn 1st chair
Diego Perez – Trumpet 3rd chair
Eddie Lasker – Tuba 1st chair
Congratulations to the following students that made Concert region band.
Alesondra Cruz – Flute 4th chair
Lynzi Ratcliff – French Horn 6th chair
Bryce Burckart – Trombone 5th chair
Quynh Nguyen – Trombone 1st chair
Congratulations to the following students that made Symphonic region band.
Shauna Heisler – Flute 8th chair
Dominque Tan – Flute 10th chair
Will Underhill – French Horn 7th chair
Jordan Haynes- Tuba 4th chair
Mason McDonald – Percussion 7th chair
Congratulations to the following students that made Area and will go on to compete for all state band in January in Alice TX. Alesondra Cruz, Shauna Heisler, Dominque Tan, Sam Decal, Lynzi Ratcliff, Will Underhill, Jordan Haynes and Mason McDonald. All students performed extremely well and represented George Ranch to their best. We are very proud of them.
Join the Model United Nations Club in discussing Ferguson, Eric Garner, and more after school this Thursday in room 1442. There will also be free Chick-fil-a. All opinions are welcome, don't miss out!
Longhorns, your 2014 Angel Tree donations are due today! Please turn in all donations to your advisory teacher. Thanks for all of the donations this year and making the holiday season special for many children.
The George Ranch Student Council is hosting a Teddy bear drive, December 9th through December 17th for the children at Texas Children's Hospital. Please donate New, unused Teddy Bears or other stuffed animals to your advisory teacher. The advisory with the most donations will receive a pizza party. Reminder donations are due by December 17th.
About the Contributor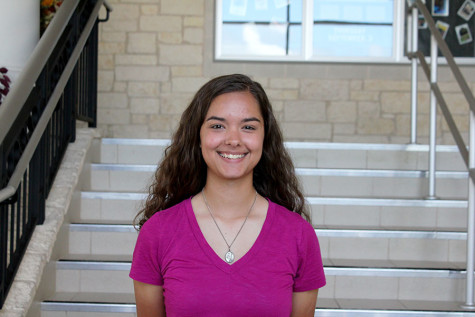 Sara Vivas, Staff Writer
Sara is a funny, light hearted person. She is a senior here at George Ranch; this is her third year on the Wrangler and she loves writing for the school...