Students' Spring Styles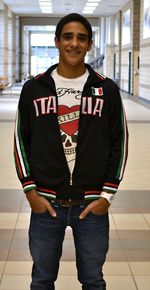 By Haley Nelson and Courtney Buchanan
              Spring is finally here and the warm weather, sprouting flowers, and sunny skies have not only changed the look outside the Ranch, but on the inside as well. Fashion is a priority among many students at George Ranch, and with spring fever in the air, the dark, winter styles have transformed to fit the cheerful weather. "Traditionally, spring is when all the bright colors pop out like lime greens and hot pinks. Personally, I think that pastels are great for spring because they're still colorful, but not overpowering. Also, white is great because it's clean, fresh, and can be worn many ways," says sophomore fashionista, Anna Robertson. Robertson describes her style as vintage/retro with a modern twist, changing it up all the time.
"I like simple things, but I love the little details that make a piece special," Robertson said. "Collars, big buttons, and high-waisted pants and shorts are some of my favorite things. However, I also like more edgy styles; black is a very prominent color in my wardrobe." Everyone has their fashion must-have– an item you cannot leave the house without. For Robertson this is a special silver ring, engraved with a tiny butterfly she received a couple years ago. "If I forget to put it on, which almost never happens, my hands feel naked and bare. It's a bad feeling." Robertson said. While Robertson enjoys shopping at popular stores in the mall and around town, such as Forever 21, Urban Outfitters, and Anthropologie, second hand stores, like Buffalo Exchange, she says are "absolutely amazing."
"I look up to Tavi Gevinson and Hailee Steinfeld for fashion inspiration because they are proof that young people don't have to dress in Abercrombie and Fitch to be 'cool'. They have a really great style but also maintain age-appropriate looks," Robertson said. "New York, Paris, and Milan Fashion Week are also really inspiring. Lastly, I get inspiration from, surprise, the internet. Websites like Flickr and online magazines are great for getting inspired." The styles popping out down the "hallway runway" at George Ranch are very much the same as current trends seen in fashion shows and runways and being displayed at stores.
"I'm no expert, but I am seeing a more sporty-vibe this spring in lots of designers. Also, graphic prints and geometric shapes look like they are in style," said Robertson. Freshman Mitchell North, and sophomore Johnny Duong, prove plaid shirts to be 'in' for guys this spring, while freshman Callie Whigam and sophomore Grace Gallagher rock classy Vogue-inspired spring dresses. Juniors Dominique Edwards, and Vince Herrera are proof that casual is also fashionable this spring, with jeans and layered, youthful tops. Fashion whether it be an everyday priority or a once-in-awhile look for a special occasion; is a way to express yourself throughout the school hallways. Take a look around at all the spring colors and fun styles of students this spring; you just might be inspired to go out on a limb and change up your style for the change of season.
Callie Whigam
Freshman- School Activity: Theatre
Favorite Stores: Forever 21, Nordstrom, American Eagle
Style: Lacey & Girly
Mitchell North
Freshman- School Activity: Baseball
Style: Casual Plaid
Favorite Store: Academy
Grace Gallagher
Sophomore- School Activity: Tennis & Newspaper Staff
Favorite Stores: Francesca's
Style: Chic Vouge
Johnny Duong
Sophmore-school activity: Wrestling, Broadcast
Style: Preppy Pink
Favorie stores: Hollister, Urban Outfitters, PacSun
Dominique Edwards
Junior-School Activity: Lariettes
Style: Cute & Trendy
Favorite Stores: Forever 21, Charlotte Russe, Marshalls
Vince Herrera
Junior- School Activity: Soccer
Favorite Stores: Ed Hardy
Style: Sporty Swag