The Neighbourhood's "#000000 & #FFFFFF"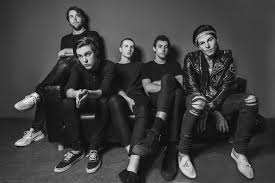 The Neighbourhood, a "dark pop" band from California, released a free full length mixtape called #000000 & #ffffff after great success of their debut album titled, I Love You. The mixtape features well-known names such as, G-Eazy, French Montana, Danny Brown and Casey Veggies. Each track is better than the one before it and it is also available for free download at http://www.datpiff.com/The-Neighbourhood-000000-ffffff-mixtape.669129.html
The mixtape starts of with the song titles NSTYNCT featuring Skeme and OGMac. This one is definitely not my favorite but it has a very intro feel to it. It seems to take everything that comes after it and gets it all hyped.
After that comes Lurk which is one of the best ones on the tape for sure. This particular one was released early as a sort of single also. It encompasses Jesse Rutherford's vocals with a beat that goes along with the words almost perfectly. Check out soundcloud for a free download of it without the producers' intro attached.
The next actual song is Warm featuring Raury. This particular song is very smooth and soft. Its like one of those songs where I would imagine rain falling in the background in the absolute cheesiest way.
After that comes Jealousy featuring Casey Veggies and the 100s. This one was also released earlier and a free download without the producers' intro is available on soundcloud. This one is also one of my favorites combining rap with strong vocals and the use of a saxophone.
1 of Those Weaks is a very slow rap song with a very steady beat using snaps and other unique instruments. This is definitely one of the other good ones and a really good song to drive to.
I had been waiting for Dangerous featuring YG to come out since I heard it live over the summer when the band played a snippet at their concert at the Bayou Music Center. This song definitely lived up to everything I expected it to be even though I wished it had more of Jesse's vocals but it is still amazing despite it all.
When I Get Back was a shocker featuring a collaboration with G- Eazy. This seems to come together perfectly talking about touring and going home. Both artists flow together and create this electronic beat that doesn't seem to be typical instruments.
The song To starts off with the chorus and has a perfect flow. I wish the producer intro had not been in the beginning since it seems to ruin the start. But, as the song goes on, it is definitely one of the better ones on the mixtape.
#icanteven featuring French Montana also was released prior to the release of the actual mixtape. This is also hands down one of my favorites. Not even French Montana ruins this one and it is absolutely perfect.
U&I is my absolute favorite. I was in shock when I first heard this one because it is definitely something that I was not expecting at all. It is very fast paced with the steady beats that contrast the lyrics of the song. If there is one song that everyone should check out from the mixtape, it would be this one for sure.
Givin N' Takin features Danny Seth and DeJLoaf. This isn't one of the best ones on the mixtape but the ending it really good.
Unfair was also released before and has no vocals but the instrumental seems to flow perfectly and is definitely one that should be checked out.
Silver is also an instrumental with minimal vocals that was released prior. This one was also used as the intro at the concert over the summer. This one is actually really good and the lyrics seems to go together perfectly as well.
T is rap style song that is really good one about the journey of the band but almost ruined a little bit by the introductions by the producers. But, it is for sure better than some of the songs that seemed to be ruined by that. Also, I feel like it could be longer and ends too soon.
The last one the mixtape is titled H8M4CH1N3 featuring Danny Brown. This is perfect to end the mixtape with since it one of the absolute perfect ones on the mixtape using unique instruments and Danny Brown seems to fit in perfectly as well.
The mixtape is amazing but could be made better by a few tweaks like getting rid of the introductions. However, it is probably the best piece of legally free music you will probably ever get your hands on.
About the Contributor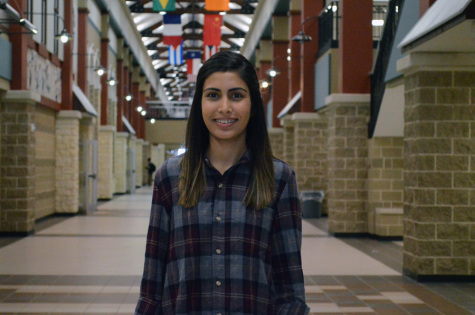 Michelle Chagani, Staff Writer
Michelle Chagani is currently a senior at George Ranch High School. Along with being a member of The Wrangler Staff, she runs the Wish Factory Club at...