The 1975 concert
The 1975. This one band is one of the greatest artists I have ever encountered because of their ability to whisk one away with their emotional presence and their powerful beats and vocals. Everything seems to come together for them. The way that they present themselves in a non formal manner. The way that Matty Healy (the lead of the band) is so into his own work that you could be hating on it all and it would not even matter to him because that music is every aspect of him in an intangible form.
When I had heard that The 1975 were coming to Houston over the summer, I was shocked and happy and a little teary all at the same time (don't judge my little fangirl moment). I knew that it was going to be an amazing show because I knew that they knew how to put on a show and make it so that everyone leaves in love with life and little moments on their own.
On the day of the show, I was as excited as ever as I headed to Cactus Music (a record store near the Galleria) to see the band have a brief acoustic performance followed by a signing session. My first glimpse of them walking into the door made me melt on the inside. This was really happening. My friends who were with me obviously thought that I was crazy and too in love but at least I wasn't a stereotypical fangirl and being very calm even though I was falling apart on the inside. Matty Healy and Adam Hann (the guitarist) settled themselves on stage and asked the audience to decide if they wanted to hear "Sex" or "Girls" first and naturally the crown responded with the more popular song "Sex." I had listened to the acoustic version on the song countless times but in person it all seemed so perfect.
They went on to play the song "Girls" right after followed by a very unexpected acoustic version of "Robbers" that shocked me because oh my was it beautiful. It was like everything had come together making it all so slow and more of a love song; I just wanted to stand there forever hearing the music completely stripped down to a more natural form.
The acoustic show went on and Matty decided to play "Is There Somebody Who Can Watch You," which is definitely one of the most emotional songs on the album. That was really surprising since that particular had not been played in a while because of its personal and emotional value. That was it and my breaking point. I actually had tears in my eyes and I was not ashamed at all since that song reminded me of things that were part of me as well. John (the sax player) also did his thing during the song and made it even more lovely than it was before.
The show concluded and the meet and greet session begun which is probably a story for another time and so is the actual concert at night. I leave you with this intimate snippet from that day. I was completely emotional invested in everything going on around me and I loved it. I probably sound insane but in the end I feel like if you love certain music that much, it does that to you.
About the Contributor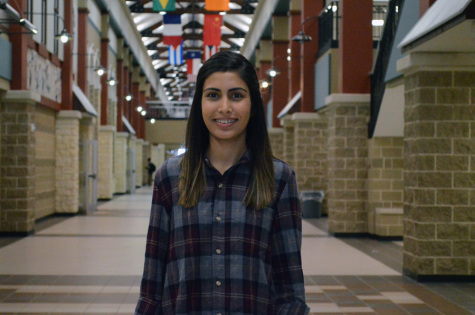 Michelle Chagani, Staff Writer
Michelle Chagani is currently a senior at George Ranch High School. Along with being a member of The Wrangler Staff, she runs the Wish Factory Club at...