Change Needs To Be Made In Cooperstown
As of today, 314 players, managers, umpires, executives, pioneers, and important people to the game of baseball, including one woman, have been inducted to the Hall of Fame.
Standing at 25 Main Street in Cooperstown, New York, the National Baseball Hall of Fame and Museum was established to preserve and honor the artifacts, players, coaches and history of the game. But ever since the initial ballot cast in 1936, this immaculate image has been tainted by the induction process of players. Where only five players were voted in out of fifty; though 43 of those players would eventually be inducted into Cooperstown, the arguments would never die from then.
It takes a player a minimum of 75 percent of the total votes in the year to be inducted into the Hall. Voters come from the Baseball Writers Association of America (BBWAA), and in order to be eligible to vote for the Hall of Fame, a writer must be an active member for ten years. In 1936, there were 226 ballots cast, requiring a minimum of 170 votes to be inducted; this past voting year saw 549 ballots cast, requiring 412 votes to be inducted (the initial voters would only get you 41.2% of the votes in today's voting).
The voting process is flawed in so many aspects; one being the fact that a voter can only vote for ten players out of a ballot usually upwards of thirty players, and when a player needs five percent or greater to remain eligible on the ballot, it becomes very hard for players to stay. The "Rule of 10", as some people refer to the maximum allowed of ten players per ballot, has caused some voters to not vote for players who are seen as lock-in inductees so that they can vote for other players who they feel deserve to be inducted but are not getting the needed votes.
"
But ever since the initial ballot cast in 1936, this immaculate image has been tainted by the induction process of players."
Even the voters agree that the voting process is flawed and many resent it. The writers themselves called for the end of the "Rule of 10", and even proposed  a "Rule of 12", the Hall of Fame quickly turned this down. The Hall also changed the maximum amount of years a player can spend on a ballot this year, from 15 years to 10, making it even harder for a player to be inducted.
There is also the amount of players who will never be inducted into Cooperstown due to their proven or supposed connections to performance enhancing drugs (PEDs) and steroids.  There are a large group of voters who have made it public that they will not vote for any player connected to PEDs or steroids.
It is time that the Hall cemented their stance on PEDs; either the players are in or they are out, no more 50/50 when it comes to voter preferences.
Players such as Mike Piazza, regarded as one of the greatest catchers in his generation, and Jeff Bagwell, an MVP and Rookie of the Year award winner, might never be inducted due to their supposed connection to PEDs, though never proven. Three of the greatest sluggers of all time, Mark McGuire, Barry Bonds, and Sammy Sosa, will go their full ten years and not be inducted as their connection to steroids has dampened their accomplishments.
The Hall of Fame's quest to preserve and display baseball history is continuously being tainted by these horrid voting restrictions, leaving great players out of the one place that every baseball player  dreams of being after his career is through.
About the Writer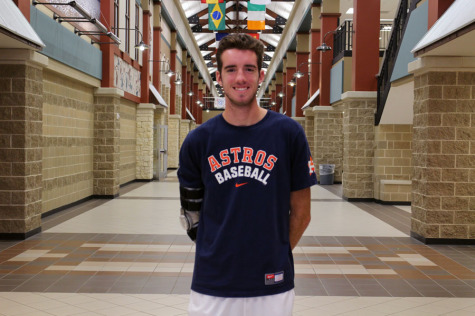 Cole Morgan, Staff Writer
Cole is senior at George Ranch High School and this is his first year on The Wrangler staff. He plays baseball for the school and is also in National...