People's Choice Awards Recap And Fun Facts
Here's all you ever wanted to know about the People's Choice Awards.
1. The People's Choice Awards began in 1975.
2. CBS always airs it, with E! airing the Red Carpet Special.
3. It is one of the only awards shows that allows the general public to vote.
4. Until 2005, Gallup polls were used to vote for the winners. In 2005, they switched to online polls.
5. The nominees are chosen by the general public.
6. Anna Faris and her costar Allison Janney cohosted the People's Choice Awards on Wednesday, January 7.
Here are all the winners of the most recent People's Choice Awards.
Music
Favorite Pop Artist: Taylor Swift
Favorite Breakout Artist: 5 Seconds of Summer
Favorite R&B Artist: Pharrell Williams
Favorite Hip-Hop Artist: Iggy Azalea
Favorite Female Artist: Taylor Swift
Favorite Male Artist: Ed Sheeran
Favorite Country Female Singer: Carrie Underwood
Favorite Song of the Year:  Shake It Off by Taylor Swift
Favorite Album: X by Ed Sheeran
Favorite Band: Maroon 5
Favorite Country Group: Lady Antebellum
Television
Favorite TV Show: The Big Bang Theory
Favorite Dramedy: Orange Is the New Black
Favorite TV Comedy: The Simpsons
Favorite TV Crime Drama: Castle
Favorite Sketch Comedy TV Show: Saturday Night Live
Favorite Competition TV Show: The Voice
Favorite New TV Drama: The Flash
Favorite New TV Comedy: Jane the Virgin
Favorite Network TV Drama: Grey's Anatomy
Favorite Network TV Comedy Series: The Big Bang Theory
Favorite Network Sci-Fi/Fantasy TV Show: Beauty and the Beast
Favorite Cable TV Drama: Pretty Little Liars
Favorite Cable Sci-Fi/Fantasy TV Show: Outlander
Favorite TV Icon: Betty White
Favorite Cable TV Actress: Angie Harmon
Favorite Cable TV Actor: Matt Bomer
Favorite Actor in a New TV Series: David Tennant
Favorite Actress in a New TV Series: Viola Davis
Favorite Daytime TV Host: Ellen Degeneres
Favorite TV Drama Actor: Patrick Dempsey
Favorite TV Drama Actress: Ellen Pompeo
Favorite Crime Drama TV Actress: Stana Katic
Favorite TV Comedy Actor: Chris Colfer
Favorite Sci-Fi/Fantasy TV Actress: Kristin Kreuk
Favorite TV Character We Miss Most: Sandra Oh
Movies
Favorite Movie: Maleficent
Favorite Family Movie: Maleficent
Favorite Action Movie: Divergent
Favorite Comedic Movie: 22 Jump Street
Favorite Dramatic Movie: The Fault in Our Stars
Favorite Movie Actress: Jennifer Lawrence
Favorite Movie Actor: Robert Downey Jr.
Favorite Comedic Movie Actress: Melissa McCarthy
Favorite Comedic Movie Actor: Adam Sandler
Favorite Dramatic Movie Actress: Chloë Grace Moretz
Favorite Dramatic Movie Actor: Robert Downey Jr.
Favorite Male Action Star: Chris Evans
Favorite Movie Duo: Theo James and Shailene Woodley
Special
Favorite Humanitarian: Ben Affleck
About the Contributor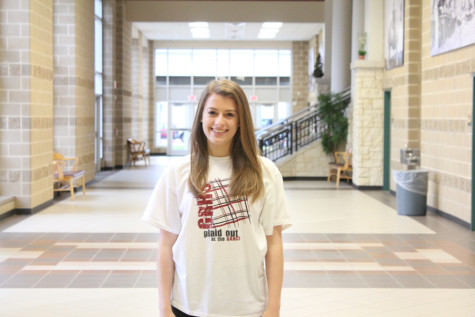 Sarah DeNeefe, Staff Writer
Sarah is a junior at George Ranch and a first year staff member for The Wrangler. She spends most of her time dancing outside of school, but, in her free...