Soccer Growing Pains
Twenty boys dressed in soccer uniforms rap at the back of a bus. This is a common sight for anyone who rides the bus on a regular basis, but it is new for the George Ranch boys' soccer team. After beginning to develop on the varsity level last season, the boys' soccer program went through changes in almost all aspects – coaching, players, and mentality. And, although they haven't always been the most successful program at George Ranch, the players believe that these changes will have a positive impact the way they play this season.
One of the main changes players have experienced is the team mentality – the mentality that the team is what matters.
"The team is trying to be successful in district this year, which is something we have never really done," said Junior Yassine Kettani. "Now, we're playing more like a team. There are no more individual players anymore. It's more about the team than it is about you."
Focus isn't the only mentality that has changed since last year. The team has a sense of togetherness that was previously lacking.
"Last season, we were really quiet on the bus. I don't know, nobody got excited. With the new players that came, they brought in some unique talents – rapping I guess is one of them. It definitely does get us more excited for games.  It helps a lot when you go on the field," said Senior Ulisse Minero. "Last game, we freestyled for an hour on the way back. It's just a fun thing to do. It's funny to listen to these guys go off the top of their head to random beat. It definitely brings us a little bit more together. It gets us going. It gets us ready for the game. It's actually a big part of it now."
In addition to new players and a new attitude, the coaching situation has changed considerably. When Coach Biesel stepped down as Head Coach to spend more time with his family, Coach Torres took over his duty and Coach Alidor has become the new assistant coach. While most programs would experience difficulties adjusting, the boys' soccer team is using it as way to start a new era.
To add to the changes, the Coaches picked the hardest pre-season match ups in an attempt to get the players ready. On Tuesday the January 15, they played an away game against Ridgepoint, where more challenges awaited them.
Five minutes into the game, Kettani, the only goalkeeper on the roster, was taken off due to injury and replaced by Minero, who had no previous experience at the position.
"Walking on the field I thought 'oh my gosh, I can't believe I'm doing this right now'. I said a quick prayer and went out to do my thing," Minero said .
Forty-five minutes later the score was three to zero.
"That's what happened. In about thirty minutes three goals happened, but I tried my best. I made two saves though. I think it was a corner and the ball wasn't cleared correctly and a forward from the rival team took a shot and I saved it. But, I didn't catch the ball so the ball bounced off of me, so he took another shot and I saved it against to make another corner," Minero said. "It was kind of nerve racking at first, but I think I tried my best and we did okay."
Kettani's perspective was slightly different.
"It was frustrating because it felt like I was just sitting down. I couldn't do anything to help my team. I felt like a spectator," Kettani said .
These are the kind of growing pains a new program goes through. But, Kettani still found a way to get back into the game, and they scored two goals before eventually losing four to two. While that may seem like a bad score line, remember that two years ago the score was much less favorable. With a united team, new coaching, and the desire to win – the boys' soccer team are making their way up.
"It's way better than it's been, but it still has a way to go," Kettani said .
About the Contributor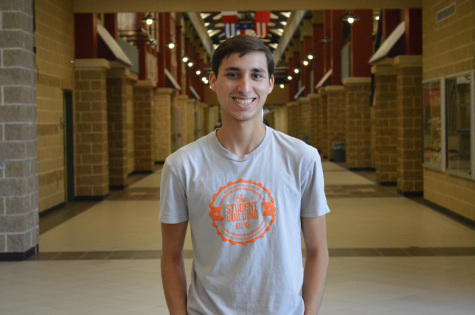 Mario Rodriguez, Staff Writer
Mario is a senior and a second year staff member of the Wrangler. He likes piña coladas and getting caught in the rain (not really). He enjoys Reeses...