Howdie Hanna Cox!
The Wrangler got the chance to sit down with Senior Hanna Cox and ask her some questions about the transition from Clements to George Ranch and reminisce about some of her past school life.
The Wrangler: Where did you come from?
Cox:  I moved to Rosenberg from Sugar Land this past August.
The Wrangler: How was it different?
Cox:  I think that people in Rosenberg are a lot more friendly. They aren't as judgmental as the people in Sugar Land. They don't seem to care as much about material things or status.
The Wrangler: What about your school did you like? Dislike?
Cox:  I had a very close group of friends at Clements. I love them to death. My favorite thing about school was being able to see them everyday. Of course I still see them a lot but not as often. My least favorite thing about my old school was that everyone was very stuck up.
The Wrangler:  Which do you like better? This school or your old one?
Cox:  Even though I left some of my closest friends, I like George Ranch a lot better. Everyone is easy to talk to and it's a fun  environment. It had been really easy to meet new people here; it wasn't anything like that at Clements.
The Wrangler:  Do you have any kind of hobbies? If so, what?
Cox: I really like to read if I have the time. I also love to run, it's like an escape. I just put my headphones on and go. With some music I could probably run for hours.
The Wrangler: Were you a part of any kind of clubs at your old school?
Cox: I did join the American Sign Language club, but I think I only showed up to two meetings. So, I don't know if that counts. I hate staying late after school; I'm too focused on getting home.
The Wrangler:  What sports did you play? Do you still play them?
Cox: I played volleyball for Clements High School up until my senior year. When I started playing, I really loved it but I eventually just got sick of it and quite honestly didn't get along with some of the girls on the team. It wasn't worth it anymore, but I still love the sport, and I met my best friend while playing on the team.
The Wrangler:  Is there any part of the sport that you enjoyed most?
Cox: My favorite part about playing volleyball was riding the bus to away games. I would always sit in the back with my friends and listen to music to get pumped up for the game. On the way back, we would just talk and laugh about stupid things that had happened to us at school.
The Wrangler: In three words or less how would you describe yourself?
Cox: I think I'm easy going and friendly.
About the Contributor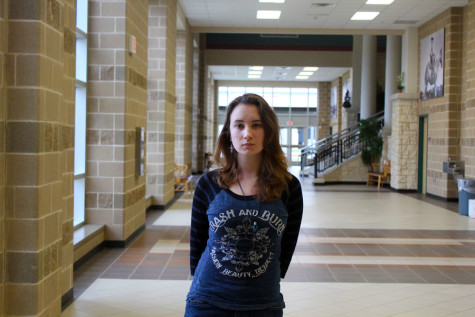 Sydney Sketoe, Staff Writer
Sydney Sketoe is a senior at George Ranch high school and a first year staff member on The Wrangler. She had spent about two and a half years in yearbook...