A New Genre Makes Their Debut at the Houston Rodeo
The Houston Rodeo is a popular event that many people attend yearly. Along with bull riding, auctions, fair rides, and more events, artists and bands perform for large audiences. Performers typically are country or pop, but this year a new genre of music is coming to the stage.
Advertisement
Hang on for a minute...we're trying to find some more stories you might like.
Music has an endless array of genres and artists. In fact, some artists and groups get the opportunity to perform their music at the yearly Houston Livestock Show and Rodeo.
Typically, artists from pop and country genres are chosen to perform; however, this year a new genre of music is making their debut at the rodeo.
"
They will be performing at 6:45 pm, at the NRG Stadium on the well-known rotating stage."
NCT 127 is a K-Pop boy-band group originated in Seoul, South Korea.
The group consists of 10 members run under the company SM Entertainment, which other hit groups such as EXO, Red Velvet, and Girls Generation are run under.
The current members consists of (by stage name) Taeyoung, Taeil, Yuta, Jaehyun, Winwin, Mark, Haechan, Johnny, Doyoung, and Jungwoo. NCT 127 debuted with their hit song Firetruck with members Taeyoung, Taeil, Yuta, Jaehyun, Winwin, Mark, and Haechin in 2016.
Further along in that year, Johnny and Doyoung joined the group. Not long later, they released their first album with nine members, and their second EP overall, NCT #127 Limitless. Their next EPs, Cherry Bomb and Chain, were released in June, 2017 and May, 2017 respectively.
The final member of the K-pop group, Jungwoo, joined in 2018 for the release of their first full album, NCT #127 Regular-Irregular.
Regular-Irregular was their first album to make an appearance in the top 100 on the Billboard 200.
NCT 127 toured the United States last year playing sold out stadiums all across the country with the album Regular-Irregular, made an appearance on Good Morning America, have been nominated for the AMAs, and won several awards in South Korea.
The boys will be making another appearance in the United States as entertainers at the Houston Livestock and Rodeo show on March 10, 2020. They will be performing at 6:45 pm, at the NRG Stadium on the well-known rotating stage.
Tickets are limited—but not sold out—and the pricing starts at $20, depending on the seating.
Whether you're a die-hard fan or have never even heard of Korean Pop, this unprecedented show is something to consider.
About the Writer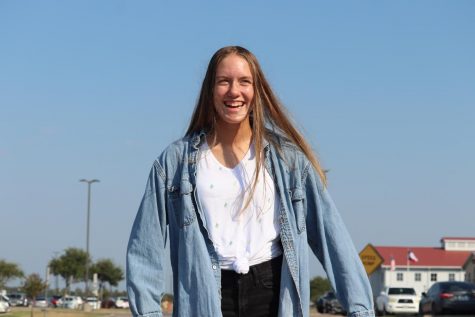 Ashley Wandling, Staff Writer
Ashley Wandling is currently in 11th grade and is in her second year on the Journalism Newspaper Staff. She participates in both the school band and cross...