The Zodiac Killer
From 1968-1969 young couples were terrified to leave their houses together in California. With the terrifying serial killer on the loose, who would want to take any chances?
The Zodiac Killer had a specific pattern, one you wouldn't expect from a serial killer.
In his short time killing, from 1968-1969, he was directly linked to 4 separate attacks and murders and was estimated to have committed 37 unconfirmed murders.
Throughout his uprising, he taunted police for not being able to catch him.
To this day he still remains unidentified.
---
December 20, 1968– Two young teenagers were shot to death: Betty Lou Jensen(16) and David Faraday(17). The two teenagers were found inside their car in a remote destination near Lake Herman Road in Vallejo, California. Police were unable to identify a motive or suspect.
July 5, 1969–  Young couple, Darlene Ferrin and Mike Mageau, were approached by a man with a flashlight in hand. This man fired multiple shots killing Ferrin and leaving Mageau with serious wounds.
September 27, 1969– Cecilia Shepard and Bryan Hartnellon were viciously tortured to death at Lake Berryessa, in Napa County. The couple stated that a man wearing the zodiac symbol tied them up while brutally beating and stabbing them. He then etched a message into their car door for police to find when they arrived. The couple was alive when emergency services arrived at the scene. Unfortunately, Shepard died shortly after.
October 11, 1969– Paul Stine was found shot in his taxi cab at point-blank range. Police suspected the murder to be a robbery gone wrong because his keys and wallet were stolen, till a letter was sent claiming the murder.
---
Each of the killings came with letters and ciphers sent from Zodiac in an attempt to taunt the police for not being able to discover his identity. During the course of the investigation, law enforcement and newspapers were sent about 20 letters with ciphers.
On August 1, 1969 the first letter was sent out.
"
Every letter that was sent out contained descriptive details of each killing that only the killer would've known"
San Francisco Chronicle and the Vallejo Times editors were both sent identical handwritten letters with no return address. The letter briefly stated that the sender claimed the murders of Betty Lou Jensen and David Faraday.
The Zodiac wanted every letter printed on the front-page of every magazine he sent it to or he threatened to kill more people. He even went as far as threatening children in the letters, saying that he would "shoot out the front tire and pick off the kiddies as they come bouncing off."
At the end of the letter there was a 3-part cipher that claimed to have his identity in it and a circle with a line through it. This symbol became known as his signature marking: the Zodiac Killer symbol.
Every letter that was sent out contained descriptive details of each killing that only the killer would've known.
One of his very last letters claimed the attack on Paul Stine, and included a bloody scrap of his shirt from the crime scene. After receiving the letter, authorities were astonished at the fact that they more than likely spoke to the killer at the scene of the crime.
After the letter and cipher about Stine was sent, the Zodiac went quiet for a while making police believe it was all over.
Three years later, in January of 1974, the San Francisco Chronicle was sent a final taunting letter praising The Exorcist to be the "best sadistic comedy that [he] has ever seen." The end of the letter wrote "Me= 37 SFPD= 0", insinuating that he has committed 37 murders and San Fransisco Police Department has yet to catch him.
After over 50 years, the big question still remains: who really was the Zodiac Killer?
About the Contributor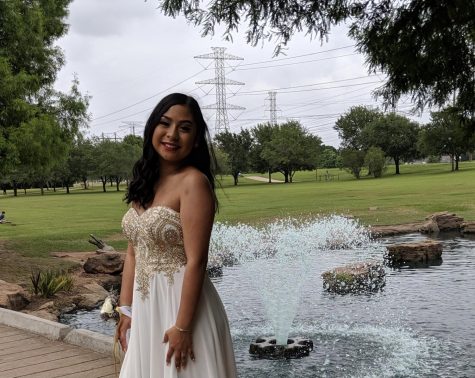 Kaitlyn Rodriguez, Staff Photographer
Kaitlyn is a senior, and it is her second year on the newspaper staff. When she's not doing schoolwork, she is managing the SkillsUSA club as President...