Lady Gaga, The Tricon
Lady Gaga has had a huge role in supporting and advocating for the gay community.
You're at home in front of the T.V. watching the Video Music Awards and Lady Gaga is sitting on a couch watching the VMAs from the 90's. Gaga jumps up singing a song from her recent album Chromatica, and slides down a pole starting up her performance.
Stefani Joanna Angelina Germanotta, known by her stage name Lady Gaga, is one of the most renowned celebrities in the world. She's specifically known for her music, and is celebrated as an LGBTQ+ icon.
Lady Gaga was born on March 28th, 1986, in New York City, New York. Not only is she a famous singer, but she's the first Tricon award recipient (an award that is given based off of excellence in many different aspects and qualities, consisting of music, fashion, charity, and the cinematic industry), on top of being a Golden Globe winning Actress for Best Actress In A Mini-series in American Horror Story, she has earned and won numerous awards for the Video Music Awards, American Music Awards, Teen's Choice Awards, Critic's Choice Awards, Grammy's, and Almost, if not all of MTV's award shows.
Some of her performances at the award shows have been rather interesting, she has been in a meat dress for an award show, she has come an award show in an egg and began her performance in the egg and walked out of it, during the performance.
One of her most memorable performances is the 2009, VMA performance, where she came onto the stage in a two piece with long thigh high boots matching the rest of her white outfit, she started singing and later on she began to play the piano and after she had a bag of fake blood under her top and had it start leaking the fake blood to look like she was bleeding and at the end she had blood all over her white outfit she hung from a hook so the "paparazzi" can take pictures of her, since she was preforming her hit song Paparazzi.
"Well, that's your opinion, isn't it? And I'm not about to waste my time trying to change it." – Lady Gaga on people not liking her style.
She is one of the biggest supporters for LGBTQ+ Youth. She used her fame to make the Born This Way Foundation—named after her popular song—for troubled LGBTQ+ youth struggling because they've been kicked out of their homes.
"Lady Gaga has inspired many individuals to be whoever they want to be, despite what society thinks. She is known for her bold outfits and a such powerful voice that has impacted many lives.", said Bukola Moyosore.
She has been an icon to many and especially to the LGBTQ+ Community, but not just stand she is a activist to everything, she has supported and informed people with and about fibromyalgia and lupus, considering she has both and struggles on a day to day basis with it. She has been so nice to her fans and supports them no matter what or who they are.
She has done so much for the gay community, especially speaking at many pride festivals and being in many parades for the community. She has also done a lot of work for the Covid-19 relief. She was actually one of the founding people contributing to the Together At Home performance that raised money and had numerous television channels streaming the One World: Together At Home. She has done as much as she can to remain a humanitarian.
"I'm Not Flawless But I've Got A Diamond Heart" sang in Diamond Heart by Lady Gaga.
No matter what Gaga does many think she will always be an iconic, amazing, and very talented person, who is unique and different from every other celebrity as in she stands and makes music, while having most of her proceeds go to her Born This Way Foundation for LGBTQ+ Youth who need help or have been struggling/kicked out. She has done many things to help bring charity to the public view and bring helping people to the mainstream media.
"I'm beautiful in my way, 'Cause God makes no mistakes, I'm on the right track, Baby I was born this way" from her LGBTQ+ Anthem, Born This Way.
About the Contributor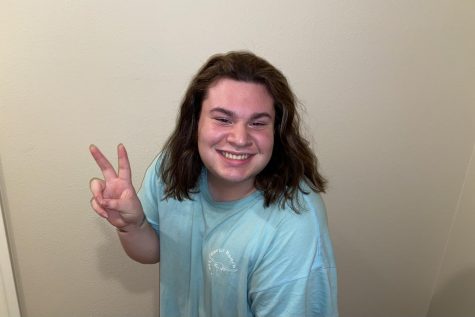 Ethan McGinty, Staff Writer/Photographer
Ethan is just one of those people who you always see being happy and spreading positive vibes. He is a senior this year and on his third year of being...