Howdie, Michael Mpanugo
All photos by Drew Wesley. Click to enlarge.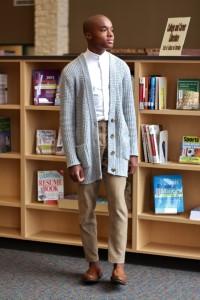 Last week, I featured Joe Mpanugo, a sophomore with impeccable class. His younger brother, Michael, isn't just following in Joe's footsteps, but rather carving a new path for his own personal style. His huge heart and unique wardrobe made him a delight to interview. Fashion must run in the family.
DW: When did you first become interested in fashion?
MM: I don't know. I think I've always been a little interested, but before seventh grade I didn't try to dress nice because I wanted to be like everyone else. Then after seventh grade, I just wasn't content; I wasn't happy. So eighth grade was basically like, a year of accepting myself and being bold.
DW: I love that; you are great. Where do you draw your inspiration from (style-wise, and just in general as well)?
MM: For life, it's the Bible. Style is, I don't know. I think it's like different elements [such as] simplicity and classiness. I try to like, draw from myself, so a little bit of fun and lightheartedness, you know? I'm not afraid. I've actually worn women's clothing because of the different patterns but you wouldn't know.
DW: I think, personally, in fashion, I love womenswear as menswear and menswear as womenswear. I love playing with that.
MM: Yeah, definitely.
DW: I guess you've already kind of answered this, but could you describe your style in a few adjectives?
MM: Simple, playful, classic and unique.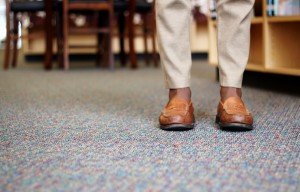 DW: Where is your outfit from?
MM: This [cardigan] is thrifted, this is a shirt from Macy's but I don't know what brand, and Joe tailored these pants for me. The shoes are from Rockport, which is like Katy Mills.
DW: How would you describe your brother's style?
MM: I think he's a lot more classic than me. Like, classic, a little bit nerdy, and masculine. Yeah.
DW: And, outside of fashion, do you have a favorite movie, book, or TV show?
MM: My favorite movie is the Nelson Mandela movie I just watched last week.
DW: Oh really? I've been wanting to see that!
MM: It's powerful; it's amazing. [My favorite] book is the Bible. And for TV shows, there's this TV show called "What Would You Do".