Veterans Day
Veterans Day is a special holiday where we honor the heroes who have fought for the safety and freedom of our beloved country. Although the Coronavirus pandemic has changed celebrations around the nation, we must continue to show gratitude for their bravery.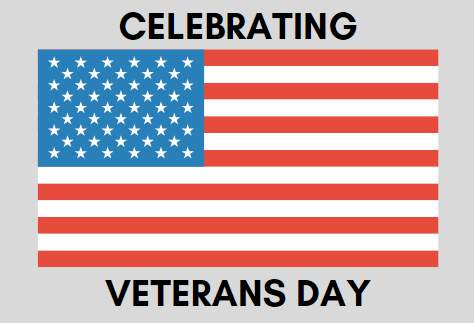 Veterans day is often celebrated with local parades and celebrations, but this year things are changing because of the global Coronavirus pandemic. Although cities want to remain socially distanced, it is important to show gratitude and safely celebrate those who risk their lives for your country's safety.
According to the US Department of Veterans Affairs, Armistice day, otherwise know as Veterans day was proclaimed by President Wilson on November 11, 1919. The holiday was initially made to honor veterans from world war one, however, after the deployment of soldiers during world war two the holiday was amended to celebrate veterans of all wars. The name of the holiday was also officially changed from Armistice to Veterans Day.
The city of Houston usually puts on an annual Veterans Day parade downtown. Schools around the area participate in the parade by having their dance team and band perform. Because the event attracts large crowds, the city of Houston has decided to cancel the parade and many other related events.
"
As we express our gratitude, we must never forget that the highest appreciation is not to utter words, but to live by them."
— John F. Kennedy
According to the Houston Chronicle, local groups will be having events virtually. The city is having a veterans day celebration with keynote speakers and a time of silence to commemorate of world War one armistice. Viewers will be able to watch via the city's television feed or listen on the phone.
Combined Arms, a veteran aid non-profit organization in Houston, will be hosting a Facebook live event at Platypus Brewing. The event is also a fundraiser, where for every pint of beer sold a dollar is donated to the nonprofit.
In addition to local events, many restaurants are honoring veterans with free meals and discounts. Dickeys Barbeque Pit is offering free pulled pork sandwiches for veterans on Wednesday, November 11, 2020. When customers purchase food through the Dickeys BBQ app they will also have the option to donate a sandwich to a local veteran organization. The owners have pledged to match every sandwich to help feed veterans in need.
Although Veterans day, like many other holidays this year, will have to be celebrated differently than the years prior, it's important to be thankful for the veterans who have served for this country.