High School Musical The Musical.
Female lead, Sarah Austin, describes her experience playing in the school's production of High School Musical.
On Thursday, October 20th, the Longhorn Players opened our production of "High-School Musical Onstage!" It went better than I could have ever imagined, and I am so excited to share some of last weekends highlights!
The cast added some finishing touches to the show, and before we knew it we were under the stage lights putting this production into motion. Overall, I would say our first show was a success!
It's something about seeing it all come together onstage with an audience that brings the energy to our cast. Another aspect that helped us all come together was the special opening night traditions that we all were able enjoy together.
From the days leading up to opening night, I chose to write a special personalized note to everyone in the cast. It was a special way for me to connect with the people that I may not have gotten a chance to grow close to during the rehearsal process.
Another special tradition that we do is called circle. The whole cast gets together in a circle to reminisce on the rehearsal process leading up to opening night. Each person in the cast got a chance to share special memories, which gave everyone the chance to live in the calm before the storm. After everyone had finished sharing their special memory, we joined hands, crossing right over left. We repeated after one of our castmates, "Act well your part, there all the honor lies." We then wished each other a good show, spinning to unlink our hands.
We then got in costume, set our props, and wished luck to our fellow castmates before the overture began. We had an amazing crowd opening night, who gave us just as much energy as we were putting out there. Next thing we knew, it was time for intermission! Each night, a different group of cast members were led out to the lobby to do a character appearance. Mrs. Kelley led Erick and I out to the photo booth to take pictures with family and friends who wanted to donate, or to just take a photo! Soon after, it was time to head back to the theatre to do a quick costume change for the second act. We slayed our way through the second half of the show, and "soared" with "flying" colors. See what I did there? We then went on to do another round of character appearances after the show, and was also able to talk with friends and family.
Opening night was truly surreal for us, and we were ready to conquer the next few shows… with a few bumps in the road. So lets get into some of the funny bloopers that happened throughout the run! Though opening night was smooth sailing, our every own Jack Scott had a line slip. During our Friday night show, Jack Scott told the audience to "kiss today goodbye", but he mixed up the consonants, telling the audience to "kiss the GAY goodbye!" Lets just say that provoked some unprecedented giggles from the audience. Another silly instance that occurred was during our 2pm show on Saturday. After starting our first scene when Taylor introduces herself to Gabriella, the "Start of Something New" track started playing. This caused the cast to scramble to our places in time for the song to start. Lets just say we were kept on our toes.
This week, the wildcats are going to iron out the kinks, in time for this weekends run. We are hyped to see you guys this Thursday-Saturday at the George Ranch auditorium for our last few shows! Gabriella Montez signing off, and see you soon wildcats!
About the Contributor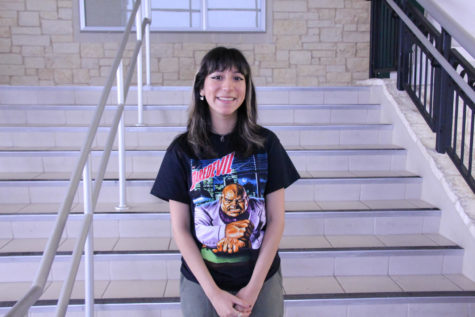 Sabrina Lara, Staff Photographer
Sabrina Lara is in her third and finale year on the newspaper staff. She loves sports and taking photos for sports! She always makes sure to take care...