Announcements: September 19, 2014
NASA is seeking high school juniors to become the engineers, scientists, researchers and innovators of tomorrow. The High School Aerospace Scholars (HAS) project offers a one-of-a-kind experience for Texas high school students to jump start their future and explore the possibilities of a Science, Technology, Engineering and Mathematics (STEM) related major or career. To apply to be a part of the HAS project or to learn more about the program, visit their website here. You can also learn more about the program by viewing "High School Aerospace Scholars: A Journey of Discovery" video here. The deadline to apply for the program is November 4, 2014. Selected students will begin their journey with the HAS Online Experience that will start in November and conclude in April. During this time, students will create technical writings and drawings, solve math problems, participate in discussion forums and chat sessions with NASA engineers and scientists. This program is sponsored by NASA and funded by the State of Texas, Houston Livestock Show and Rodeo, and Rotary NASA, at no cost to participants.   Attention juniors: Our Balfour representative will be here during all lunch periods Wednesday, September 17 and Friday, September 19 to take Class ring orders. An $80.00 deposit is required to place the order. Rings will be delivered on Friday, December 6.   Students if you want to help give back to your community, apply to be part of Youth in Philanthropy or YIP. Students who are chosen work in teams to help non-profit groups in Ft Bend County. Applications are now available at the Student Service Window or online at the George Foundation. The application must be mailed to arrive at the George Foundation by September 22nd, or they can be turned in to Mrs. Kroeker in Room 1425 by Sept. 18th.   NHS members: we are looking for people who are willing to help out at late night Library on Mondays. Sign the list on Mrs. Kroeker's door or see Evan Murray if you can help. School Service hours are given to those who help in this area.   Students, the following forms are available at the Student Service Window: college visit, locker check-out, parking application, pre-approved absence, textbook, check-out, and VOE (Verification of Enrollment). Please stop by the SSW if you need the form and allow 24 hours if your form requires administrative approval or check-out of materials.   The wrestling team is looking for male and female managers. Duties would include filming matches, score keeping, and help with equipment and assisting during practice. Managers would travel with the teams to all of their events. If you are interested please stop by and see Coach Kirby in room 1328 or email him at [email protected] Trips: Students, Are you interested in an amazing lifetime experience? Consider joining a group travelling to Europe in June of 2015. There will be a meeting for parents and students regarding the trip on Thursday, September 18th, at 6:30 p.m. in Room 1425. If you can't attend, but you are interested, stop by and get information from Mrs. Kroeker. It's not too late to sign up for the Close Up trip to Washington, DC. See Mrs. Davis in room 1442 for details.
About the Contributor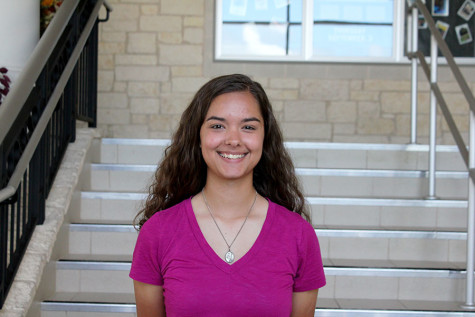 Sara Vivas, Staff Writer
Sara is a funny, light hearted person. She is a senior here at George Ranch; this is her third year on the Wrangler and she loves writing for the school...