Album Review: Long.Live.A$AP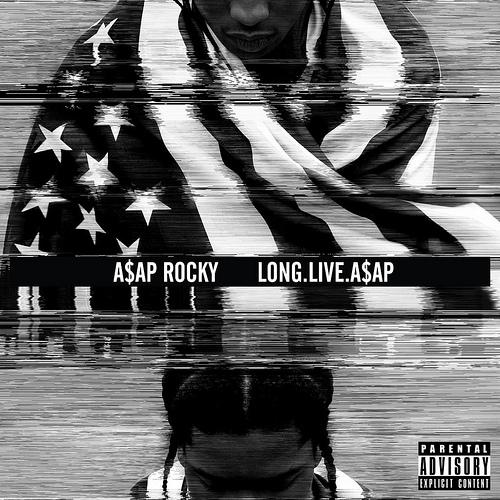 Album Rating: 7/10
I did not expect to like this album. A$AP Rocky's previous work had, in my opinion, been vastly overrated. His debut mixtape, LiveLoveA$AP, did not display or go up to par with the amount of hype that it had been receiving. It was an array of songs with many spacey, slow and largely southern influenced beats that outshined the weak lyricism of A$AP Rocky. I came into this expecting much of the same. For the most part, I was wrong.
The album starts off with the title song "LongLiveA$AP" which features a very dark and heavy beat with a haunting voice singing the hook while A$AP Rocky begins rapping about subjects such as dying in prison, heroin addictions and hypocritical Christians and sets the tone for much of the album. The following track "Goldie" displays the huge influence of southern hip-hop in A$AP Rocky's music which uses the Houston originated chopped and screw. He uses this technique for several other songs paying homage to DJ Screw and Houston hip-hop.
A$AP Rocky employs a good amount of features and even ventures out of hip-hop to feature Santigold in the 5th track, "Hell," and Skrillex in one of the low points of the album in the 8th song "Wild For The Night" where he raps unsuccessfully over a dub step beat. A stand-out feature is frequent collaborator ScHoolboy Q in the braggadocio track PMW. best song on the album is undoubtedly the 9th track, 1 train a six minute posse cut featuring some of the most talented young artists in the hip-hop game today namely: Kendrick Lamar, Joey Bada$$, Yelawold, Dany Brown, Action Bronson, and Big K.R.I.T. The various emcees each recite emotional and introspective verses displaying each of their own signature styles and flows.
Ironically (and terribly annoying) is the fact that the worst song in the whole album "Fashion Killa" follows "1 train." In this track, A$AP Rocky raps about a female with expensive fashion taste and how they fit together. Unfortunately, the beat is just so awful and A$AP Rocky's attempt at half singing and half rapping the hook completely destroy the song. The following concluding tracks are then average and unspecial and the album concludes with a weak finish.
One thing about A$AP Rocky's music is his weak lyrical ability and lack of real wordplay. Despite this however, he is very capable of making good songs and has a great ear for beats and the ability to write catchy songs without the atrocious lyricism of other similar artists. He has many influences and sometimes even employs various flows from different sub-genres from hip-hop into his music. The album displayed a good improvement over A$AP Rocky's previous work and showed his growth as an artist. His quick rise to stardom as the leader of the A$AP Mob is a good sign for the resurgence of New York hip-hop and its culture.