Sailin' Da South: Chopped and Screwed Music
Houston's very own unique style of hip-hop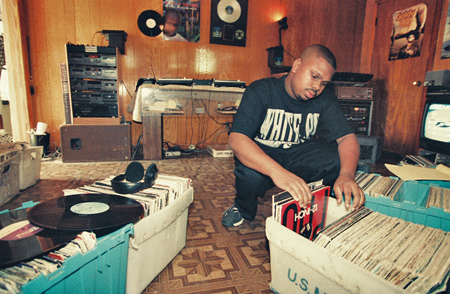 A lot of people saw on Travis Scott's most recent album, "Astroworld", the song "RIP Screw", but not many of Travis' young fan base know the historical significance behind that phrase.
Chopped and screwed music is a massive music movement that, although extremely influential, remains relatively underground. DJ Screw, the innovator of the genre, grew up in Smithsville, Texas, but moved to Houston at a young age. He began DJ-ing at the age of 12, but started to make what he called "slowed down mixes" in 1990. These mixes would later become his trademark "chopped and screwed" sound. He would make personalized tapes for his friends, but these tapes slowly became more popular. Everyone wanted their very own screw tape.
It was around this time that DJ screw recruited some popular Houston MCs and created "The Screwed Up Click", or S.U.C., consisting of Big Hawk, Big Moe, E.S.G., and Fat Pat, among others. Later the group would add Z-Ro, Trae tha Truth as well as Lil Flip. At this point the Houston DJ had people lining up at the door to his house, just to obtain their own screw tape. It's said that DJ Screw produced over 200 mixtapes around this time, but only 4 were released nationally.
"
Chopped and screwed music is a massive music movement"
What was so innovative about Screwed up music? It would take the normal song and slow it down to about half speed. This would make the MCs voices very deep and ominous. The voices led to a larger focus on storytelling. DJ Screw would then chop up the lyrics on the track to give them new meaning, and what's most impressive is that he'd do all of this with nothing more than a turntable and a microphone. It was just so original. It's almost impossible to talk about the style without also making mention of the drug that influenced it most: codeine.
"Purple Drank" was used heavily in Houston at the time, so much of the music coming out of Houston was heavily influenced by it. On November 16, 2000, DJ Screw died of an apparent codeine overdose. Many of his most influential tracks such as "Smokin' and Leanin'" and "Sippin' Codine" are about the drug that lead to his eventual demise. However, chopped and screwed music did not die along with DJ Screw. You can look up almost any popular song on YouTube and find the chopped and screwed version. Chopped and Screwed music lives on throughout hip hop and continues to influence popular artist throughout the world. Travis Scott, being from Houston, was heavily influenced by DJ Screw and his music and even sampled him on a couple tracks off of his latest album. DJ Screw changed music and created one of the most eclectic genres of music ever, but still it remains an underground style.