Superbloom's Early-Release Songs
Ashton Irwin, drummer for 5 Seconds of Summer, is releasing his first pop-rock style solo album to spread awareness of difficulties he has experienced in his life.
Most artists don't touch on sensitive topics related to mental health issues that teenagers struggle with.
However, in his first solo album Superbloom, releasing on October 23rd, Ashton Irwin has taken the opportunity to create something both vulnerable and personal.
Through the creation of Superbloom, he is sharing his story to spread hope to his listeners as a reminder that they are not alone in their struggles.
Since the album's release date has been announced, Irwin has released the following songs from the album: Skinny Skinny, Have U Found What Ur Looking For, and Scar.
"
[The album] has helped listeners feel less alone in their struggles…"
— Ashley Wandling
Each song has a different meaning and shares a personal part of Irwin's life journey.
"Skinny Skinny" is paired with a music video that touches on the issue of body dysmorphia and eating disorders, a topic people struggle with but isn't talked about often.
The song portrays the destruction eating disorders bring upon a person, with lies being fed into a person's mind that they must stay skinny to achieve happiness. Throughout this song, Irwin repeats the lyrics "you tear me up all of the time" after describing a situation a person struggling with body dysmorphia might encounter.
These lyrics capture the way body dysmorphia entraps a person's body and mind. In the music video, Irwin is shown breaking a mirror, creating a visualization of breaking the beauty standards of society and the demons inside of one's own mind.
The next song Irwin released is entitled "Have U Found What Ur Looking For," or "HUFWULF" for short. With yet another vulnerable song on the subject of body image and overcoming beauty standards, Irwin expresses the difficulty of loving your body and trying to find happiness without causing yourself physical harm.
In a tweet, Irwin mentioned that this song "is about overcoming mental resistance, and facing every fear you've ever had."
The words "HUFWULF" are repeated throughout the song as Irwin is asking himself: "Have you found happiness? Have you achieved the body you wanted? Have you gained what you wanted out of this?"
Those seven words, "HUFWULF", are the words that show that harming yourself to achieve a certain body image gets you nowhere. You won't find what you're looking for by losing weight in an unhealthy way.
This song is meant to spread awareness of the unhappiness eating disorders bring and the reality of how consuming they are of a person's thoughts. It has helped listeners feel less alone in their struggles and empowers them to overcome those negative thoughts about their body image.
The final song Irwin released is entitled "Scar", which is a song about not giving up when life gets hard. Out of all the songs, this one is the most vulnerable because it touches on a topic nobody wants to mention.
He opens up with his own personal struggles to help others with struggles similar to his own from his past. While the other songs may be a little more graphic and descriptive in terms of eating disorders and body dysmorphia, "Scar" relates to the mental health side of life that isn't mentioned often, due to the stigma surrounding the subject.
Scar focuses on suicide prevention and serves as a reminder for listeners to not give up. The day before he released Scar, Irwin tweeted out something to give listeners insight on the meaning of this song.
He tweeted, "This song has an important message behind it I'd like to share before you listen. Please hold on. Please don't quit, please don't let go, please remember you're loved. Please don't commit suicide."
The song says: "There's no need to run and hide when the world leaves a scar. There's no need to say goodbye when the world leaves a scar," repeatedly as a reminder that when life leaves you emotional or physical scars, you don't have to give up and you don't have to give in.
Your life doesn't have to end.
He mentions that life is painful, but asks for help from his mother to guide him through the difficult parts of life and show him the light amidst the darkness. He also begs his siblings to stay alive because their life is worth living and has potential.
The overall concept of this song is to remind listeners that life is worth living and you will overcome this, so don't give up. Through Irwin sharing his song and his story, he has helped thousands of listeners understand that they are not alone and have the strength to fight through when life gives them a scar.
The rest of Superbloom will be released on October 23 and fans are more than excited, as it will help so many people who are struggling.
You can Pre-Save it on Spotify, Apple Music, or Deezer and give all three songs a listen to support the release of Superbloom! For lovers of power pop music and fans of Ashton Irwin, this album will not disappoint.
About the Contributor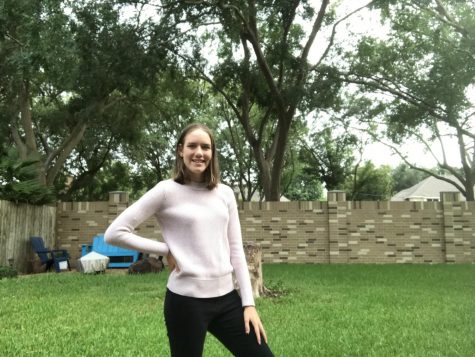 Ashley Wandling, Staff Writer
Ashley Wandling is a senior and this is her third year on the Wrangler Newspaper Staff. She is also going on her fourth year in both the school band and...