The Futures of Our Seniors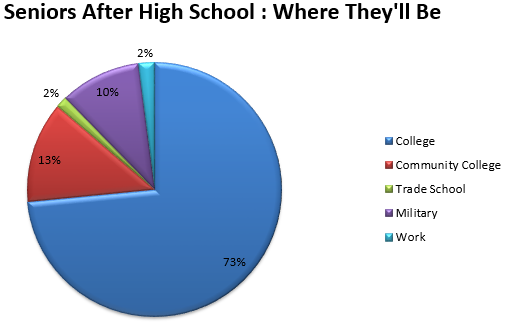 Everybody knows that Senior year is the last year of their high school experience. What some don't know is: what's after that? And that's why we have people like Mrs. Kubena who work specifically to help high schoolers decide their future and give them the tools to reach it.  Mrs. Kubena is George Ranch's Career Facilitator.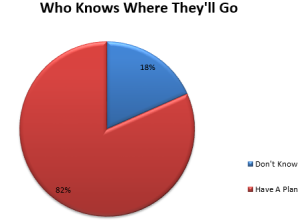 Not only does she help those who want to go college, but she also helps those who decide to take the military, work, or trade school route.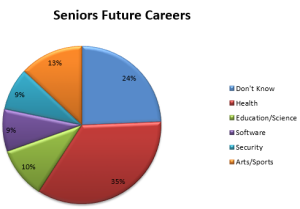 There isn't just one route to choose, and she helps to set each student on to their individual path. A nifty device that assists her to help students is Naviance. Naviance helps in requesting transcripts, completing your brag sheet, requesting letters of recommendation, updating your profile, reporting your acceptance, and checking your GPA. Tests can be taken that suggest what career would suite the student based on thier answers. Mrs. Kubena herself will find scholarships for colleges, special programs, and research on financial aid to help set students up so they can go to the collage of their choice. If they're not going to college she can still help. She makes direct contact with military recruiters, researches schools, and gets information on job openings. There are many opportunities, whether college or work, trade school or military, Mrs Kubena will help get students started for their futures outside of highschool.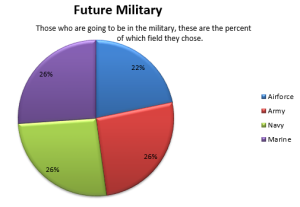 Here's a direct Q. and A.  with Mrs Kubena that'll help answer what specifically she's doing to help students at George Ranch High School.
1.      How do you/our school, help the students who want to go into the military?
The military is allowed to actively recruit on campus.  The students given access to recruiting officers.  I also have literature in the College & Career Center for students who might be interested in the Military to look at prior to speaking with an officer.
2.      How do you/our school, help the students who want to go to trade school?
I am actively speaking with trade schools encouraging them to reach out to students who might not want to attend the traditional college.  Presently, I am trying to speak with each and every senior about their plans.  I want to ensure all seniors have a "plan" for after high school.  Those plans are not limited to colleges, but include trade schools, military and career opportunities.
3. How do you/our school, help the students who want to go immediately into work?
                Helping them utilize Naviance to create a professional resume.  Second semesters, I will post a "who's hiring" section in the School Newsletter and on Naviance.  I want to provide as many opportunities as possible, but also help the students look at the situation realistically.
Here's an extra. There's no mistake that the University of Texas and Texas A&M are big rivals. There are many supporters and haters when students and teachers voice thier opinions about thier former or future college. More students want to go to A&M than U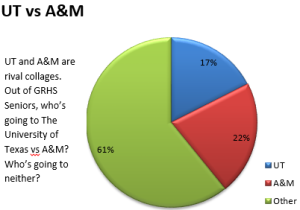 T.  In reality, however, the majority of the Seniors are wanting to go somewhere else than either UT or A&M.
Mrs Kubena's new room location is on the second floor, the second math hallway, first door on the left, room 2419. Visit her for more indepth help and  information.
Naviance Login: https://connection.naviance.com/family-connection/auth/login?hsid=georgeRanch username = student id password= birthdate (ex. 8/21/1996)