The Life of Maya Angelo
In honor of Black History Month, Maya Angelou, an infamous poet who has timeless poems and an interesting life growing up in the 1940's.
Marguerite Annie Johnson, aka (Maya Angelou), was an amazing poet, singer, memoirist, and civil rights activist who's work is well-known across the world. She was 86 years old at the time of her passing. It all started in St. Louis, Missouri, on April 4th, 1928. She moved to Oakland, California, when she was just 14. She gave birth to her first child at the age of 17; just three weeks after completing high school.
In 1951, Angelou married her a man named, Tosh Angelos. She started taking modern dance classes soon after the marriage. A few years passed, she ended the marriage in 1954, and pursued her dance career professionally in clubs among the San Francisco area. During the time of her dance career she went by the name, "Marguerite Johnson" or "Rita", but many people at the club she worked for and supporters of her suggested her to go by " Maya Angelou". She then went by that name professionally and started singing, touring Europe with a production company that house an Opera. While in each country, Angelou wanted to practice and learn each language for each country she visited. In 1957, she released her first album called, "Miss Calypso", which gained high popularity at the time because of how popular the calypso lifestyle was during that time period.
"
This wave of emotion gave her the strength to stand up strong, use her creativity, spirit, and intuition to start a march and lead the country to hope after MLK was killed."
In 1959, Angelou became friends with John Oliver Killens, and who later persuaded Angelou to pursue her writing career. She began to meet many authors, including many major African-American authors at during her publication era. She even met Martin Luther King Jr. and hear him speak. She also started performing in plays in the early 1960's. She started moving around from place to place, going to different countries in Africa. In Accra, she met Malcolm X around 1965.
In 1968, Martin Luther King Jr. wanted to start a march, Angelou was asked to lead the march and organize it. She postponed it, and while it was postponed Martin Luther King Jr. was assassinated on Angelou's 40th birthday. This wave of emotion gave her the strength to stand up strong, use her creativity, spirit, and intuition to start a march and lead the country to hope after MLK was killed.
After many years, Angelou started writing poems, which became famous and well-known across the world over the years. She became a Grammy Award winner after recording one of her poems. She even, at the Bill Clinton inaugural recitation, recited one of her infamous poems, "On the Pulse of Morning", she was the first poet to do so, since John F. Kennedy's inauguration.
"Maya was many things – an author, poet, civil rights activist, playwright, actress, director, composer, singer and dancer. But above all, she was a storyteller – and her greatest stories were true. A childhood of suffering and abuse actually drove her to stop speaking – but the voice she found helped generation of Americans find their rainbow amidst the clouds, and inspired the rest of us to her our best selves." – Barack Obama's presidential statement on Angelou's passing in 2014.
About the Contributor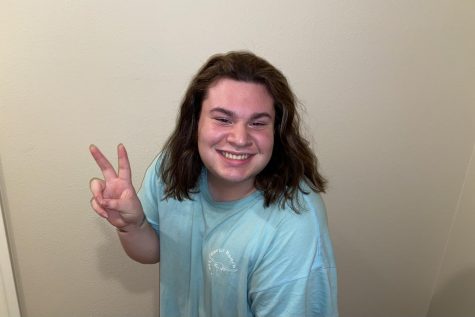 Ethan McGinty, Staff Writer/Photographer
Ethan is just one of those people who you always see being happy and spreading positive vibes. He is a senior this year and on his third year of being...