What is OnRamps Precal?
"So is that, like, Dual Precal?" "Is that kind of like an AP Precal class?" These are only a couple of questions I get about my OnRamps precal class and it seems to be this mysterious new course that no one has a clue about.
"OnRamps Precal is a dual enrollment pre-calculus course that we offer here at George Ranch," Mr. Throop, the teacher who instructs the class, says. "It's a dual enrollment because you are simultaneously enrolled at George Ranch and at the University of Texas at Austin. So we call it a dual enrollment course because you get two grades: a college grade and a high school grade. Whereas a dual credit course you get one grade and it counts twice. Here in dual enrollment, you get the experience of a high school education, but you get the benefit of having a college professor's feedback and you have a college professor looking over some of your homework and some of your tests."
Upon hearing that the class would take a semester of college precal and stretch it out into a year of high school, you would think that it would be a piece of cake, but it proves to be challenging enough. On the first day, Mr. Throop explained that everything would be a high school grade except for 7 tests and 16 assignments that were to be graded by the professor on a college rubric. The pressure was definitely on when we heard that the  7 tests would be 95% of our college grade and the 16 exploration assignments would be 5%. Another stress factor to consider is that tests and assignments graded for college credit cannot be reassessed, so a student should do well in being punctual with their tasks at hand and be prepared to go in-depth into the conceptual theory of the mathematics being discussed in class.
The course is more about examining the grey areas of problems rather than just seeing things in plain black and white. "We treat the course very analytically," Mr. Throop says, "We don't necessarily care so much for just grinding out equations, we care more about where the equations come from, proving it exists, and then utilizing it." This gives students a chance to delve into mathematics on a whole new level, probing each expression creatively and inquisitively.
The advantages of this OnRamps precal is definitely worth the cost and the work you put into it in the long run, regardless if you pass the class (making a 75%  or higher) or not. "I recommend this class because if you break down a college tuition, one college class at just the campus of UT costs about $900, and the OnRamps class is only $180," Mr. Throop says, "So if  you get the college credit, it's a steal. If you don't get the college credit, you still get a lot of good benefits, you get a lot of firsthand college experience, and so you'll be very prepared for when you do take that class again in college."
About the Contributor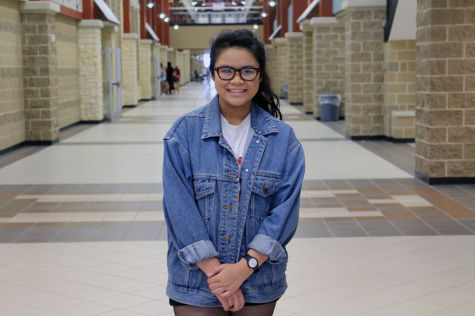 Julia Nguyen, Staff Writer
Julia is a senior at George Ranch HS that loves Lord of the Rings, Bright Eyes, and Jordan Bradley. Her hobbies include drawing, reading, writing, and...